Customer Reviews
09/14/2019
Anonymous
United States
Love these panels!
These panels are great. Have them mounted low behind front seats in the Jeep where some of my preparedness gear is permanently attached and stored! Organized and accessable now, love it.
Used in briefcase
I just received my Rigid Molle Panel from you guys and attached are pics of my set up. A little background, got the bag for x-mas it is a Duluth Trading leather briefcase, nice bag however there was no provision for concealed carry or organizing my other gear. That when I came across you guys. Attached basically everything with Velcro Onewrap. If it looks backwards, probably because I am a lefty.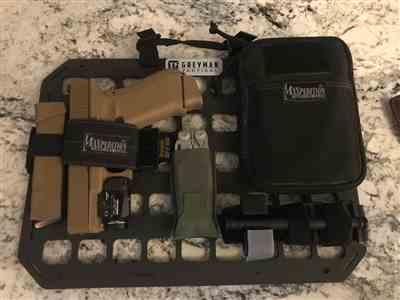 07/22/2019
Craig R.
United States
MOLLE Wall plate
no issues - product worked wonderful
No limitations like other panels
Thanks for making this product. I've tried other panels, but they have the following limitations: Non-standard slot sizes; every other row/column is offset by 1/2 slot width; flimsy combination of fabric and overly thin plastic. I wanted something that would hold my EDC gear in dedicated pouches, that would hold its position/shape in a messenger bag, and could be transferred easily from bag to bag. Your "Rigid MOLLE Panel" (RIP-M) works perfectly in all respects. I have a substantial collection of pouches -some with "unusual" MOLLE spacing, and even these have worked. I've attached some photos of my setup. I will certainly buy another panel, in a vertical orientation. You might consider offering a package of pouches, matched to the Panel.
05/15/2019
Rob S.
United States