Customer Reviews
06/15/2018
M
United States
04/18/2017
Anonymous
United States
Back seat panel
Great piece of hard use gear...able to mount everything I need and even a lot of things I don't need but it's nice to have!
04/14/2017
Mike C.
United States
Have no fear! Your gear is now secure!
Pardoning the title, my purchase has immediately been put to use. I used my MOLLE panel to secure some items for my hiking/survival pack. Not only are the straps and handle durable, but they secure the gear so that it does not move around. Having this type of organization will certainly make my pack less cluttered. Great product!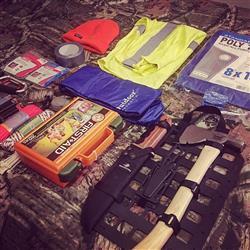 04/14/2017
Ronald D.
United States
Great product
Great product! I carry an AR15 pistol, 1911 pistol, otis gun cleaning kit, and a bayonet. This is a very sturdy well built product that is gonna be with me for a lot of yrs. I've mounted ammo pouches, gun cleaning kits, pistol holster, bayonet, AR15 pistol, and more mounted on mine. I mount mine around the passenger headrest in my Avalanche. Extremely pleased with Greyman Tactical products and WILL be purchasing more.