Customer Reviews
06/10/2018
Anonymous
United States
12/24/2019
Amber L.
United States
My boyfriend loves it!
My boyfriend has yet to put together his whole set up but he absolutely loves it! Amazing quality. Pictures will definitely be coming soon
Pelican case 1615
would definitely buy another and I still might, I installed mine on the inside of a Pelican 1615 aircase, it's more of a trunk but it holds most of my training gear as well as extra kit. There's a blend of pouches as well as Velcro wraps and shockcord. Hsgi tacos, PIG double mag pouches, Blue force gear mag pouch.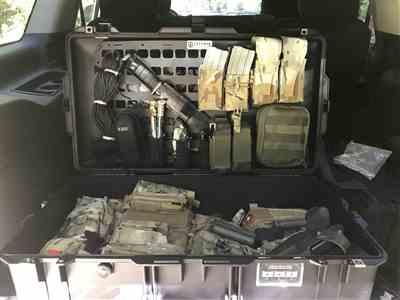 5 stars
I use one inside the cab with the top secured around the headrest and the base around the bottom of the seats connection to the powered tracks. This works good as it doesn't have to wrap around the front of the seat. Have DDM4v5 w/ a 6 mag molle pouch, SIG 229 w/ 4 single mag pouches Panel in the truck bed/cap holds a variety of molle pitches, bags, etc for camping. Attached with four carabiners to truck cap roof hooks.